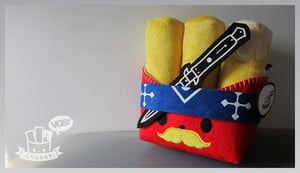 $

20.00 - On Sale
This edition of Chunky Fries features a moustache and one of the fries has an aioli dip. It also features a switchblade tucked underneath a blue bandana because that's how he rolls.
The plush measures approximately 7"x7"x2.5" and all the parts are removable.
(The bandana comes tied and has a simple stitch in the back. The stitch can be removed if desired.)
Feel free to click on the number beneath the photo for alternate views. Click on the image itself for a larger view.